Haramaki, Double Indigo Denim, and Slovenly Style
The chilly weather has arrived... The outerwear has come out, and it is time to start layering again. This year I have primarily focused on dark indigo and deep reds. Combining the two to make a nice foundation for the next several months of personal styling. Kapital last year (and this year), made a very simple double indigo denim fabric (meaning warp and weft are indigo dyed). It all started with Ringo Man Pants, and this riders jacket (rigid). Starting off dark, the indigo quickly starts to get that shininess to it that is so irresistible. After a few washes the denim texture comes out.
Tora-san from the series "Otoko wa tsurai yo" wears one of my favorite styles. The tummy-wrap or haramaki has a slovenly image in Japan, but more recently some fashion houses have picked up on this vibe. The mamori or talisman hanging around his neck is the finishing touch. To make it a more modern Wayousechu vibe; replace the check blazer for a riders jacket, and change the lid to a knit cap or open-crown cowboy hat. The tummy wraps are available just about anywhere in Japan, but I opted to get a 100% wool one, that has a dirty-old-man vibe.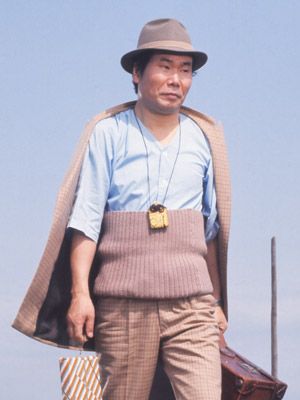 I found this piece of saki-ori fabric earlier this year and it has been my working color pallet. It almost looks like the cloud layers of Jupiter... Most of everything I buy will be color-based and fit-based from one piece of fabric, photo or theme. I usually incorporate form and items from a variety of sources. These Egyptian split toe socks are the perfect red. It is no secret I love Japanese movies... but more than ever I have been re-re-watching Ozu Yasujiro movies, the colors and shots in Floating Weeds are some of my favorites. You can also get some idea where Wes Anderson got inspiration from...
This Kapital Juban Shirt is the ultimate layering piece. With a mid-deep collar, light distressing and details it has been in frequent rotation. It is a great east-meets-west piece and not only comfortable, but also looks great with almost anything. As the name suggests the premise is that of a layer shirt, although an actual juban layer doesn't have buttons.
Here is my own personal haramaki styling. One a heavy indigo, with a contrasting golden brown haramaki. Tezomeya indigo henley-neck t, and Mittan silk/cotton jacket. The second one here is the that hybrid Japanese-American style with a riders jacket and Kapital Nouvelle pants, that have a thick rib-knit waist band that kinda has that tummy wrap vibe. With a sarrouel fit they are slouchy, comfy, and just the right amount of modern...